Being a parent is hard.
It is fun. It is thrilling. It is rewarding. But it is hard, heartbreakingly hard.
Both my boys started back to school just a few weeks ago. My oldest son began 8th grade and my youngest son began Kindergarten.
And my Mommy heart was breaking. My hands wanted to wrap around both of them for dear life and not let go.
And so I prayed. I prayed and I prayed and I prayed and I prayed.
It was still hard.
My youngest son came home his first day and absolutely loved it. He could hardly wait to go back the next day!
But as the days pass, his excitement has dwindled. At times he feels lonely. He knew nobody going in and most of the other kids already had friends.
Every day when he comes home I ask him who he played with at recess. So far he has responded that nobody wanted to play with him.
I fight back tears.
I want to run to school and ask – no, beg – those kids to please not be so mean. Pease don't be exclusive.
He is such a nice boy. Why on earth don't they want to play with him?
Parenting is just plain hard.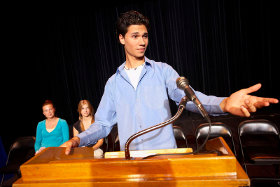 At the same time, my older son announced to me that he has decided to run for student council president.
"Do you need help making your poster?" I ask.
No, he's already done that.
As the time nears for the candidates to give speeches and the students to vote, he warns me that he doesn't have much of a chance:
"So-and-so is running and he is much more popular than I am."
"So-and-so is running and she is the only girl. All the girls will vote for her."
Again, my heart breaks because I know how much he wants it and I can't get it for him. There is absolutely nothing I can do.
He would be excellent at it, I know.
I ask if he needs help with his speech. I ask if he needs help with his campaign. But he informs me that he's got it.
I cringe.
Not because I don't believe him. I believe that he thinks he's got it, but I've also seen him comb his hair in the morning. And he tells me that he's got it when it's sticking straight up right on top.
"It doesn't matter anyhow. Nobody's going to vote for me" he says.
And I want to cry.
I look at him and all I can see is my sweet toddler with blonde hair and chubby cheeks holding on to his blankie. I don't care if he's nearly a foot taller than I am. He's still my baby and I hurt because he's hurting.
He, too, feels alone.
I want to hold him on my lap and love on him.
I want to pick out a band-aid to cover the hole in his heart.
And so I pray. I pray and I pray and I pray and I pray.
If only parenting weren't so stinkin' hard!
But here's the problem, folks…  God is still in control. As much as I love my kids, He loves them more.
It's true that I want to hold them, care for them, and never let anything bad happen to them. What parent doesn't?
But my children are people too.
God is just as much in control of their life as he is in mine. To think that I am in control of any of this is just plain pride on my part.
Sometimes I need reminders to peel my death-clinching-grip off of them and to place them safely in God's hands.
All I can do is to point them to Christ.
And what if I was always able to fix things for them? Well, they would never know their need for Him. They would never have a desire or hunger for His Word. For His saving grace. They would never get to experience the peace that surpasses all understanding or the great depth of His love. They would never know Him.
And if I, as their parents, never showed them their need for Christ, if I never pointed them to Him, reminded them of His sovereignty, then I would have failed as a parent.
And so I pray. I pray and I pray and I pray and I pray.
And I work on trusting Him with my children and rest in knowing they are securely in His hands. He is there all the time. I am not. I cannot.
And I find peace and comfort in that.
"The Lord is my rock and my fortress and my deliverer, my God, my rock, in whom I take refuge, my shield, and the horn of my salvation, my stronghold and my refuge, my savior" – 2 Samuel 22:2-3
And, in case you're wondering, my son did get voted in as president. But I was reminded to trust Him again when a teacher sent me a text saying, "Your son just gave an awesome speech!"